Rentals for the City in the Desert
**We have availability for 2023.**
We offer modern silver trailers to rent for the city in the desert. We have experience in preparing your silver trailer for the week-long event. In addition to stocking all trailers with linens, towels, and household goods, we provide a guide on best practices for how to use your trailer while at the annual event.
Rentals are for 9 days. Additional days can be added if needed. Earlier delivery and late retrieval is available upon request. Reservations require a $3,000 non-refundable deposit which will apply towards your rental.  The remaining balance is due 30 days prior to delivery.
All trailer rentals listed below include full insurance coverage, preparation for the desert including full waxing of the trailer and taping of windows and vents, extra trailer supplies needed for life on the desert, and 40+ hours of cleaning required to remove all dust from the interior and exterior of the trailers.
Please inquire about delivery rates outside the event or for non-delivery rates from our shop in Tracy, CA.
Please let us know if you need a tow vehicle and we will get you setup with a separate reservation.
Portable 3400W generators are available to rent for an additional $1,400.
Additional Airstreams not listed are available upon request.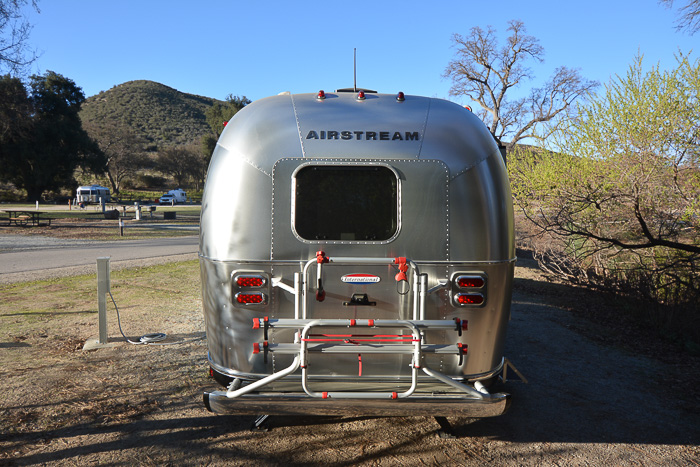 23′ International – $16,900
Fully stocked Airstream
Cozy luxury silver trailer with queen bed
Recommended for 2 people
1 queen size bed + 1 dinette-convertible bed
Shower, Toilet, Sink, Air Conditioner, Heater, Refrigerator, Freezer, Stove, Oven, and Microwave




25′ Flying Cloud – $18,500
Fully stocked Airstream
Spacious luxury silver trailer with twin beds and lounge couch
Recommended for 2 people. Sleeping for 3-4 available, but not recommended
2 twin size beds + 1 dinette-convertible bed + 1 couch-convertible bed
Shower, Toilet, Sink, Air Conditioner, Heater, Refrigerator, Freezer, Stove, Oven




25′ International – $18,800
Fully stocked Airstream
Spacious luxury trailer with queen bed and lounge couch
Recommended for 2. Sleeping for 3-4 people available, but not recommended
1 queen size bed + 1 dinette-convertible bed + 1 couch-convertible bed
Shower, Toilet, Sink, Air Conditioner, Heater, Refrigerator, Freezer, Stove, Oven, and Microwave




28′ International – $21,800
Fully stocked Airstream
Largest luxury silver trailer with queen bed and lounge couch
Recommended for 2. Sleeping for 3-4 available, but not recommended
1 queen size bed + 1 dinette-convertible bed + 1 couch-convertible bed
Shower, Toilet, Sink, Air Conditioner, Heater, Refrigerator, Freezer, Stove, Oven, and Microwave